CATAPULT ATTRACTIONS
Bounce your way around Catapult and the Launch Zone. Test your meddle on the Tornado Twirl. Become a leaping legend on the Leaping Leopard Giant Airbag. Take your best friend and race down the Catapult Mega Chute, and then face off on the Cat Fight. Continue your friendly competition on the Catwalk. Climb around our Free Climb and dive into the Air Bag below. Hike all the way to the top of Mt. Catapult, and after you have conquered one of the wonders of the world; become a wonder of the world as you reach Flash-level speeds as you hug the walls around the Wall Run.
Outside food & drinks are strictly prohibited.
Catapult Safety Socks are required to participate or walk on any attractions.
Height Restricted Attractions
Air Bag: A participant must be 6-Years-Old and up. A participant may be up to 250lbs.
Cat Fight: A participant must be 37in. Tall. A participant may be up to 200lbs.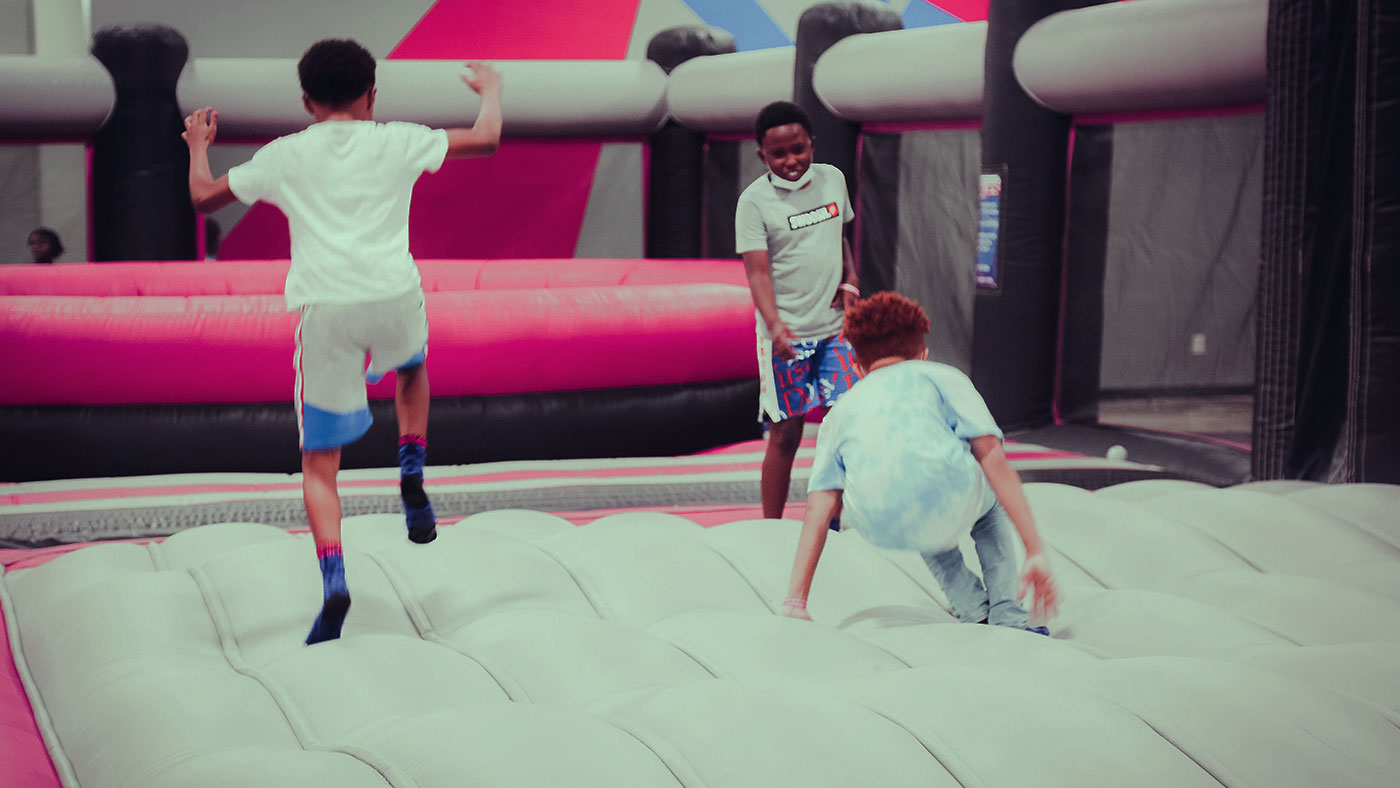 LAUNCH ZONE
The moment you step into the Launch Zone, time will rewind and you will find yourself reconnecting with a younger version of yourself. It's kind of hard to stress about car payments and dirty dishes when you're flying through the air, is it not? Do cartwheels, handstands, defy gravity–all on our huge platform. There are endless paw-sibilities in the Launch Zone!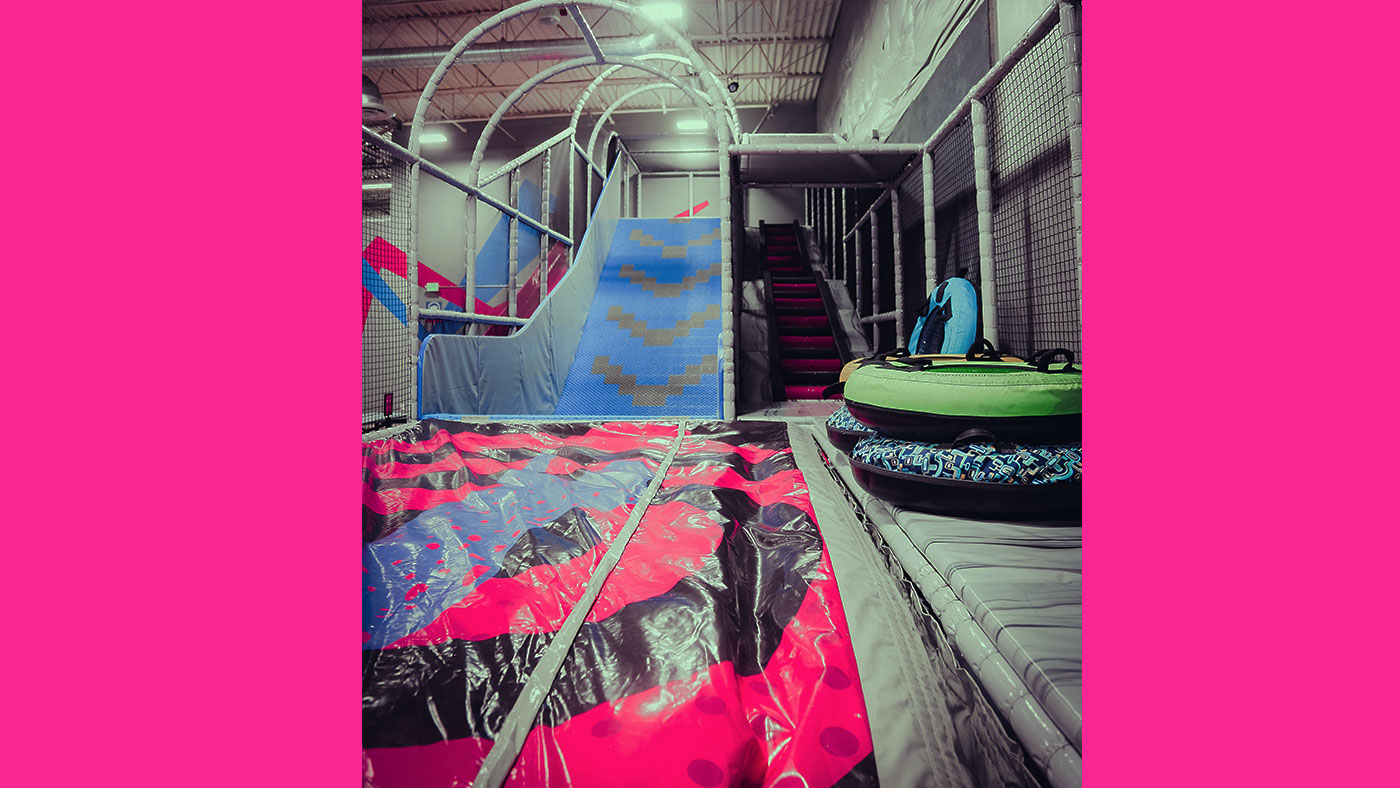 TUBE-TOPIA
Let summer come to you! Instead of tubing the river, we provide tubing indoors! Grab a partner and have a racing competition on our side-by-side slides. Stick with us and it'll be summer all year long!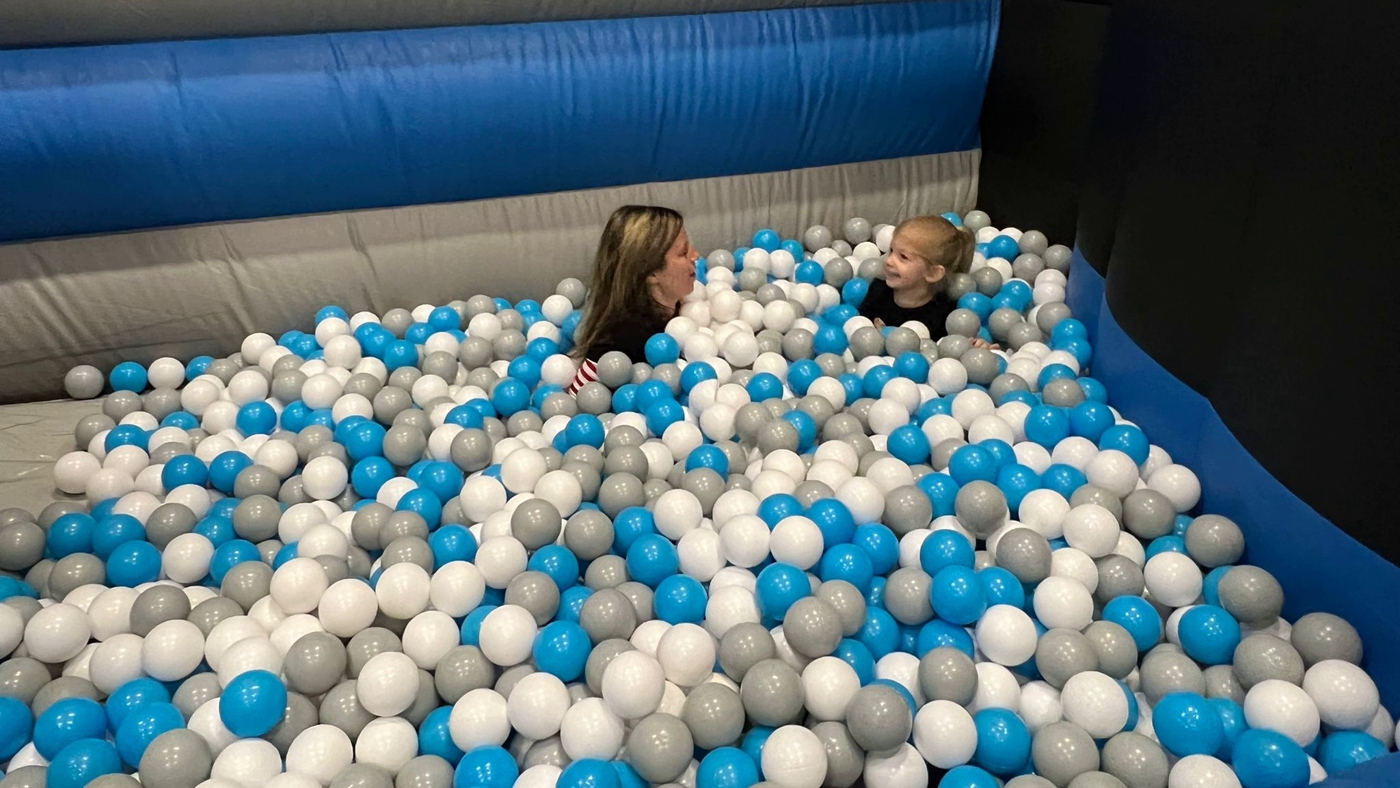 THE PAW PIT
Remember those dinky ball pits you used to play in, in between bites of cheeseburger? They were great fun, but didn't you always wish they were bigger, better? At Catapult, The Paw Pit is mega huge. Grab a group of friends and play an ultimate game of hide and seek or swim laps from front to back.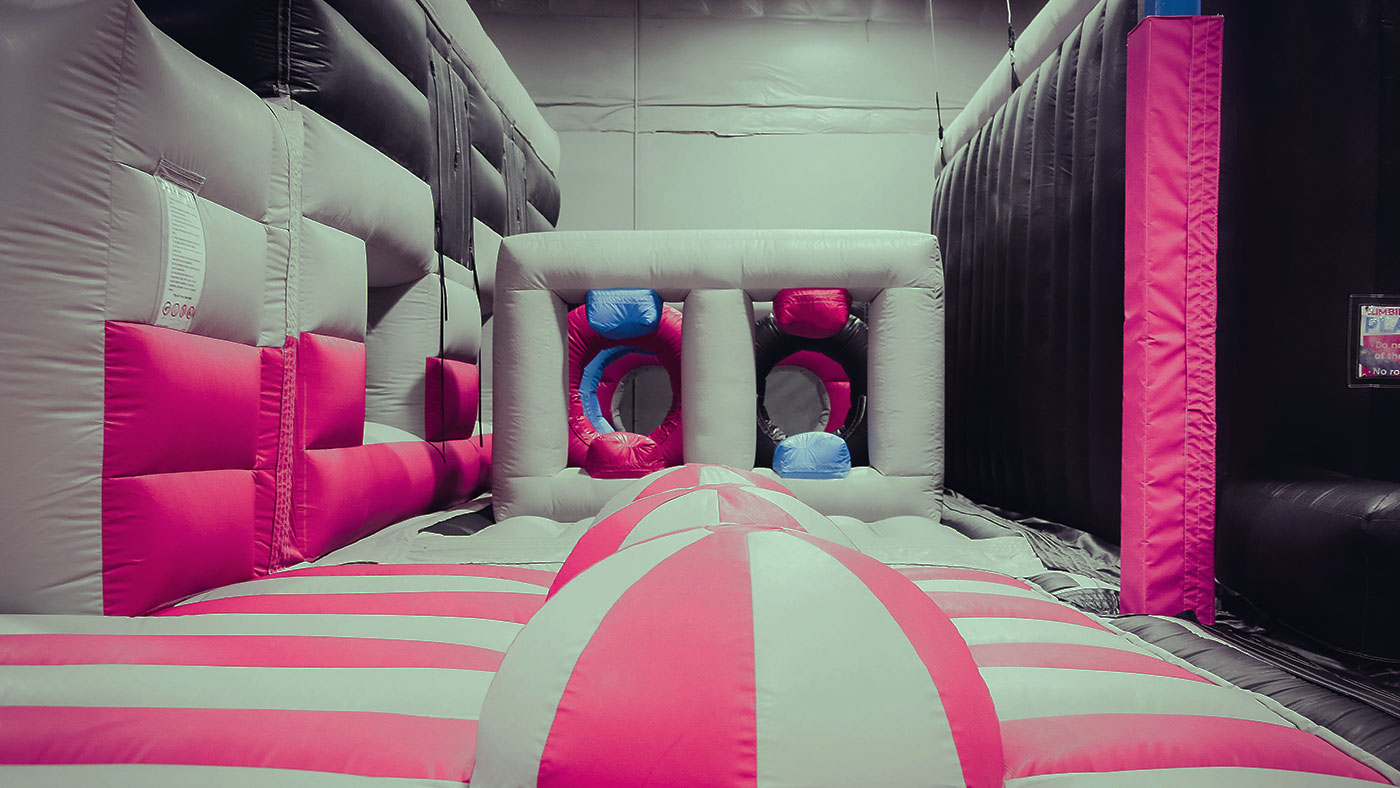 NINJA CAT COURSE
Ever wanted to be like those Ninja warriors on TV? Now's your chance! Test your speed, reflexes, agility and strength in our advanced Ninja Cat Course. A couple of rounds of challenging obstacles and you'll be ready for reality TV in no time!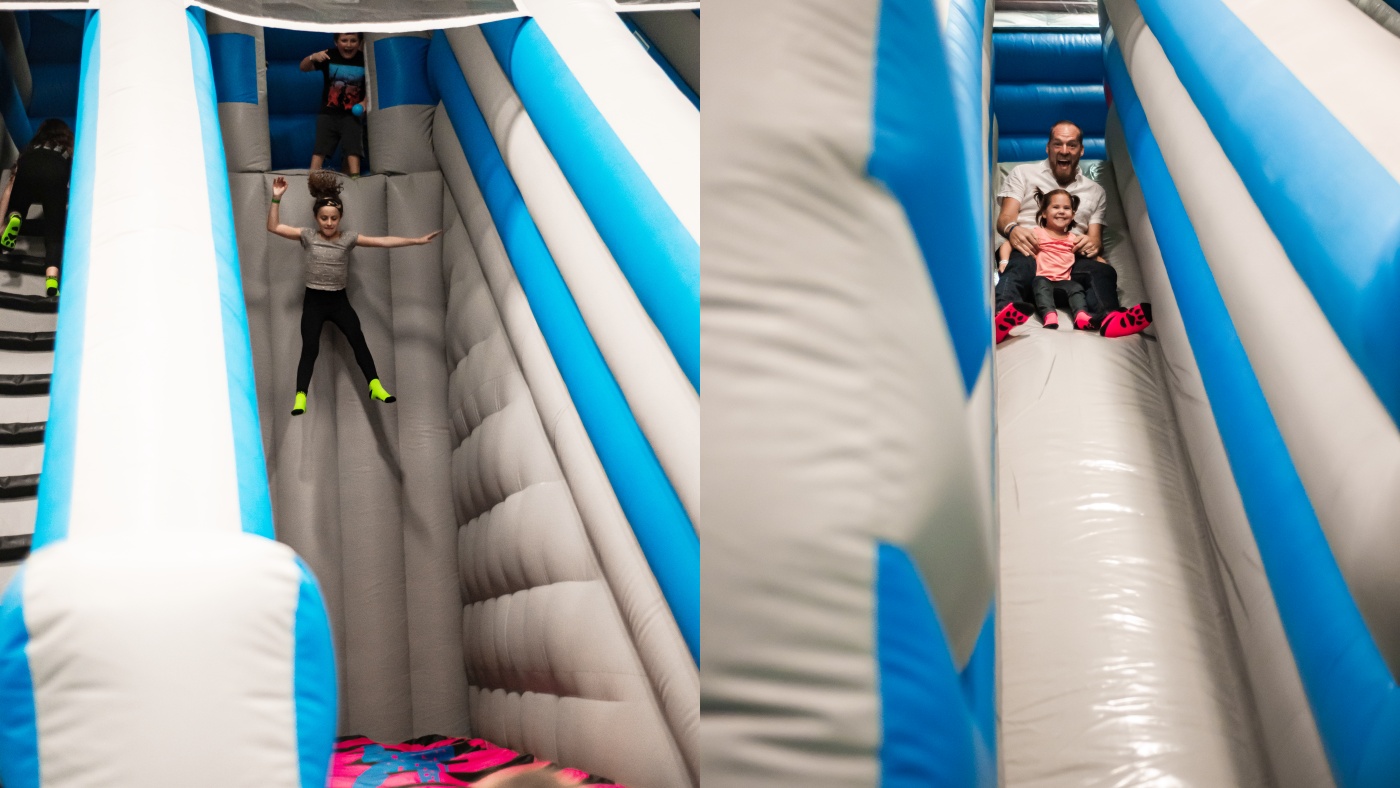 LEAPING LEOPARD SLIDE AND AIR BAG
What would an adventure park be without its slide? This isn't your average slide, either…it's mega huge. This attraction is addicting – you can't slide just once! Purr-fect for all ages.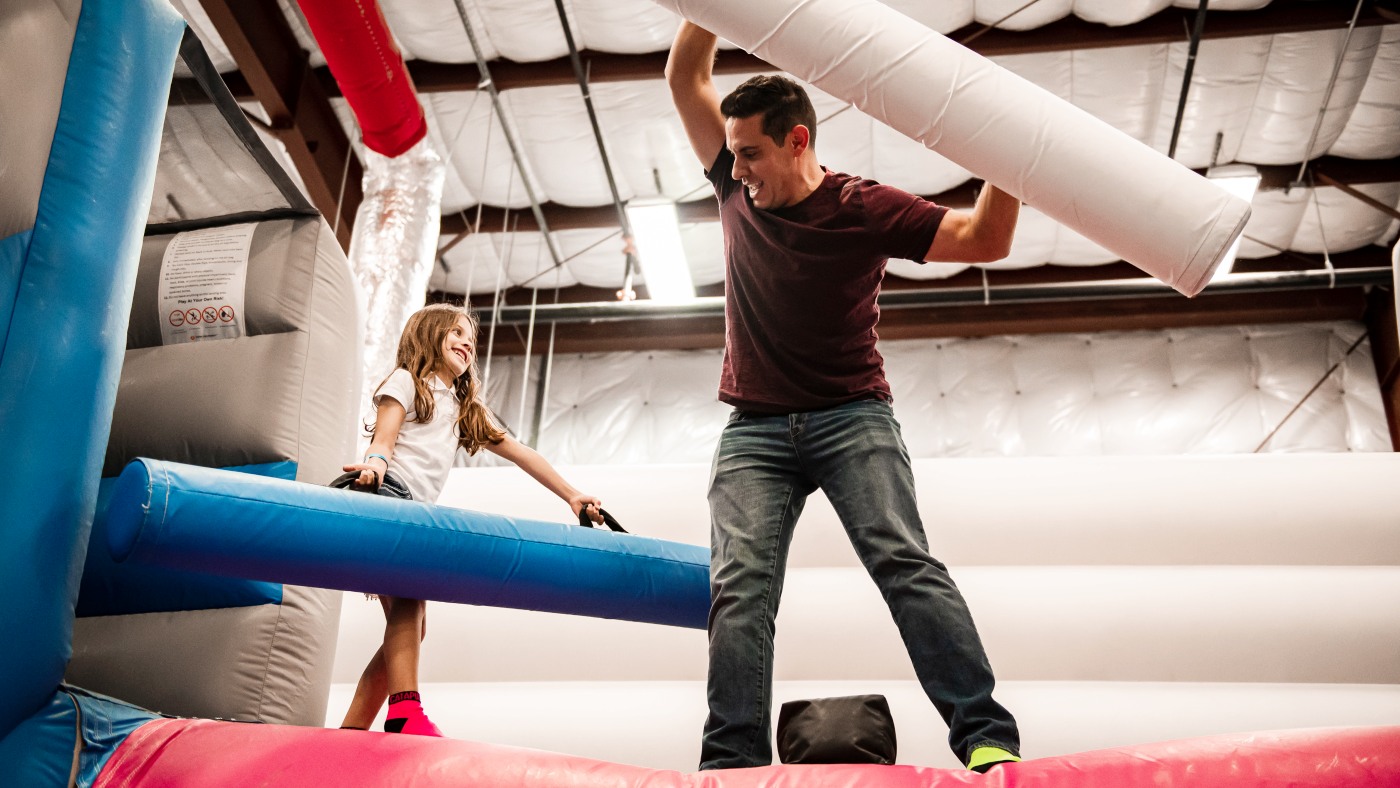 CAT FIGHT
Gymnastics meets medieval sword play for the ultimate duel in this battle of balance and strength. Objective: Knock your opponent off the battle beam without falling off yourself. The ground is lava (okay, it's airbag, but go with it). Grab a partner and battle it out! Winner is the last one standing.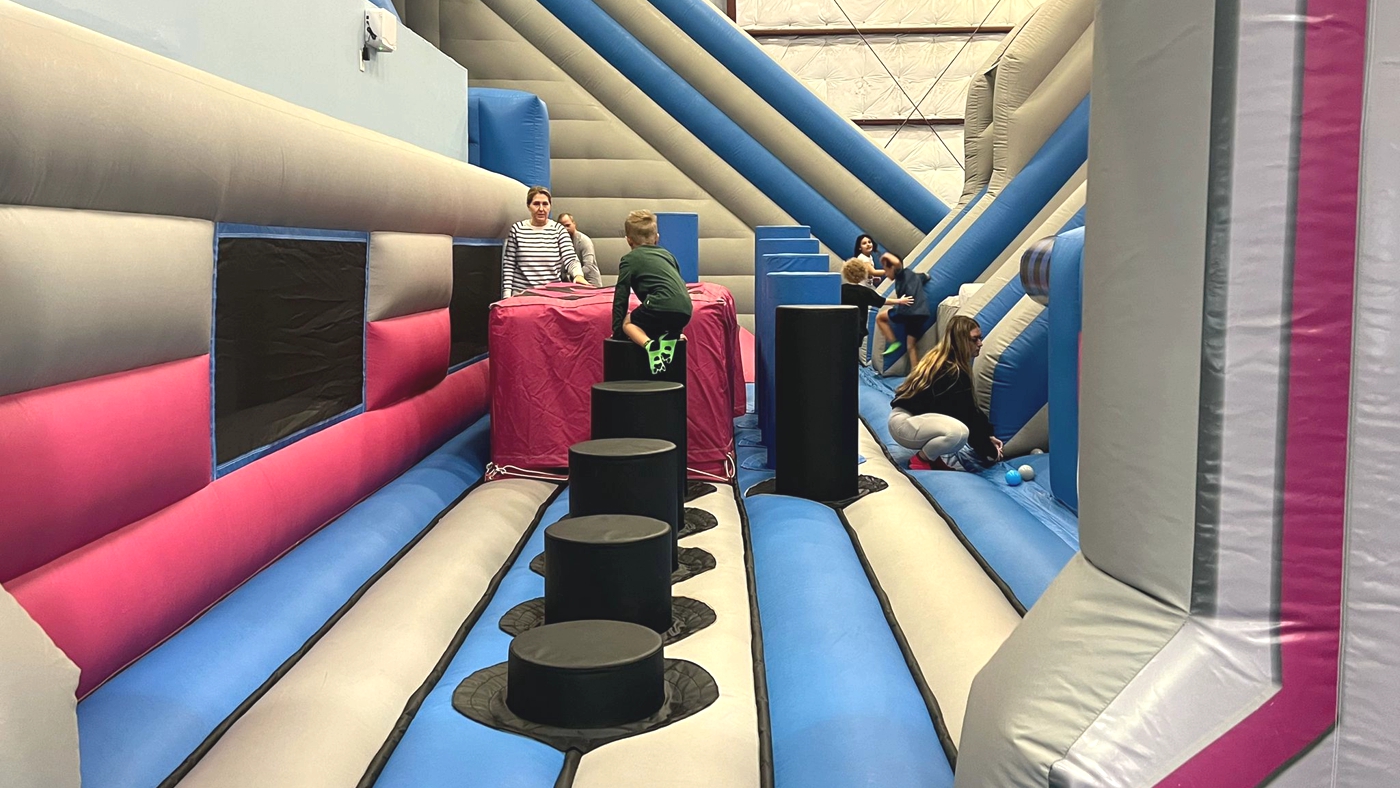 CAT WALK
Remember when you used to impress your friends by balancing on a ledge or fence? It's time to take it to the next level with this attraction, where the challenge is to hop from place to place until you reach the top. Don't forget to strike a pose when you finish – you are on the Cat Walk after all!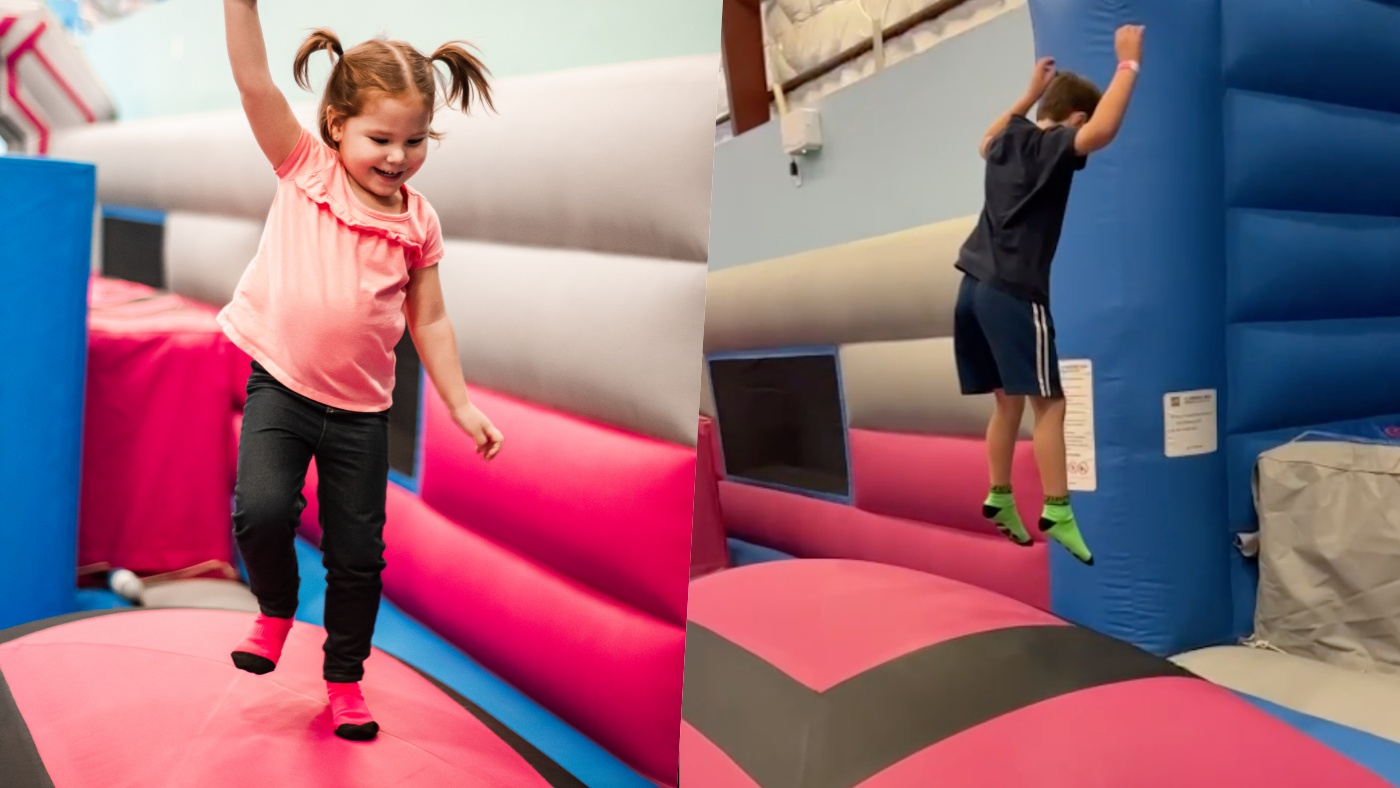 MT. CATAPULT
Reach new heights as you trek to the top of Mt. Catapult. Don't forget to yell "I'm king of the rock!" at the summit of the mountain. Then slide down the other side and do it all over again. This attraction is purr-fect for all ages, especially the little kitties.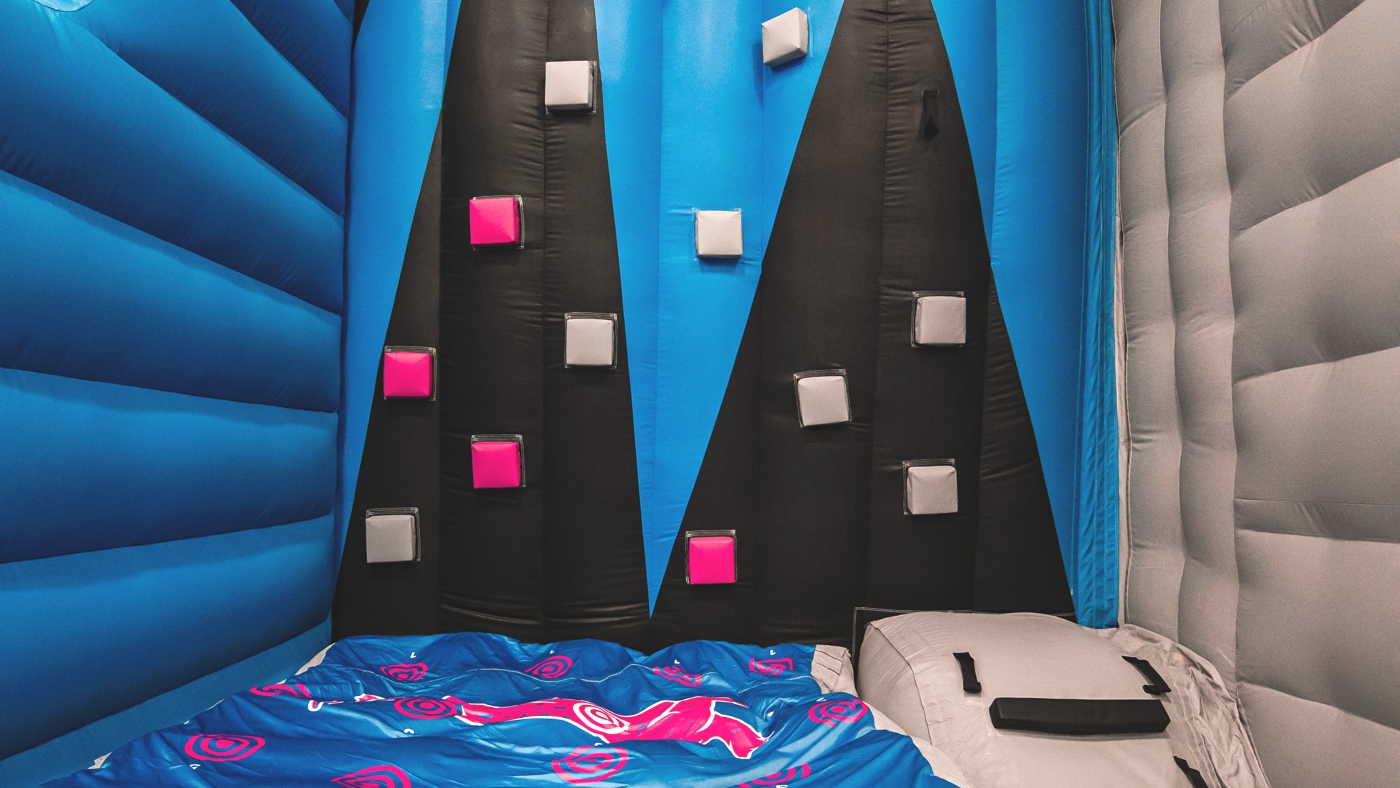 FREE CLIMB
Test your climbing skills on our Free Climb wall. Can you make it to the top? Can you make it from one side to the other? If you conquer everything, then enjoy your free fall into the Air Bag below! *Pro Tip – even if you fail, you still get to fail into the awesome Air Bag below!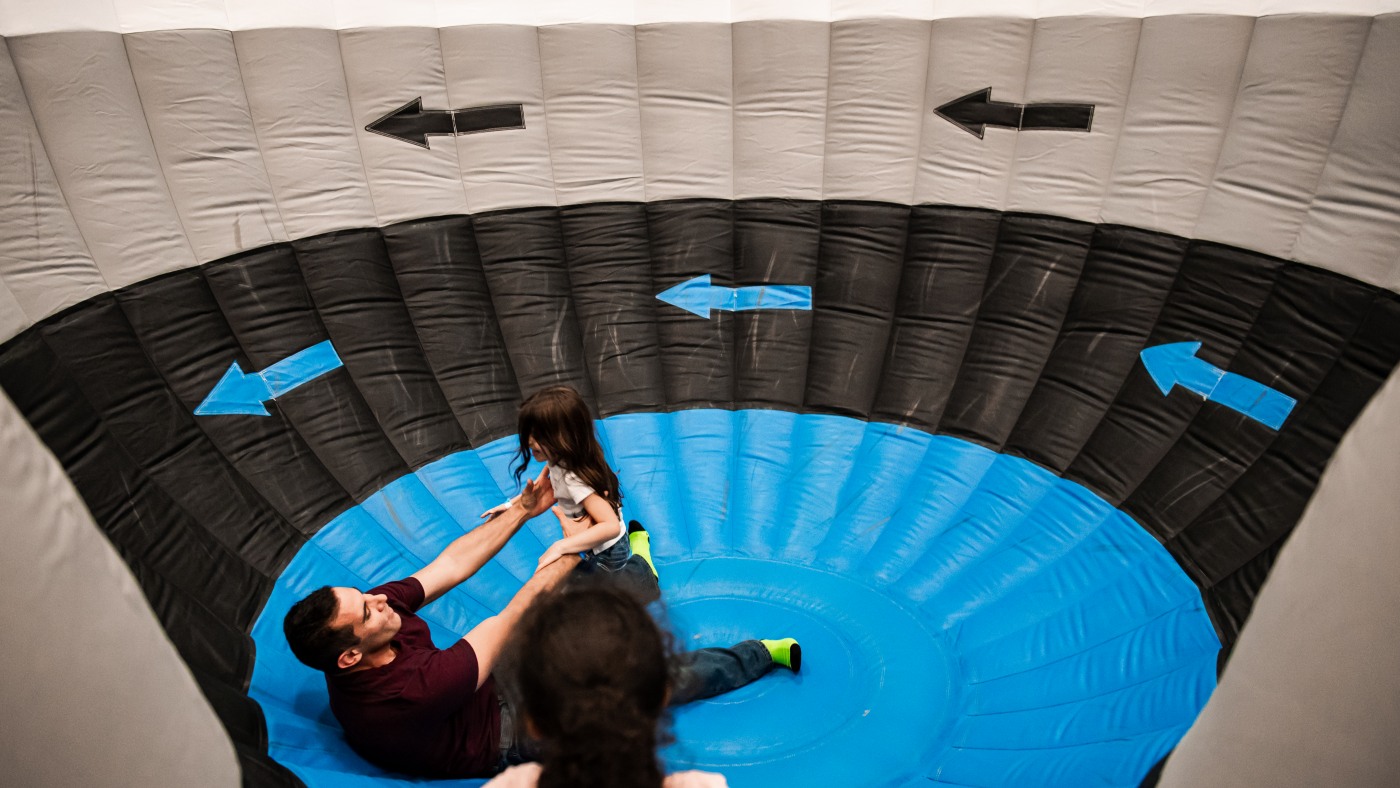 WALL RUN
Have you ever wanted to be like the Super Hero, Flash, where you could run up a wall? Now you have that exact opportunity! Treat your body like a NASCAR Race Car and run around our Wall Run so fast; that you are basically running sideways! Can you run around fast enough to reach the Summit of this attraction?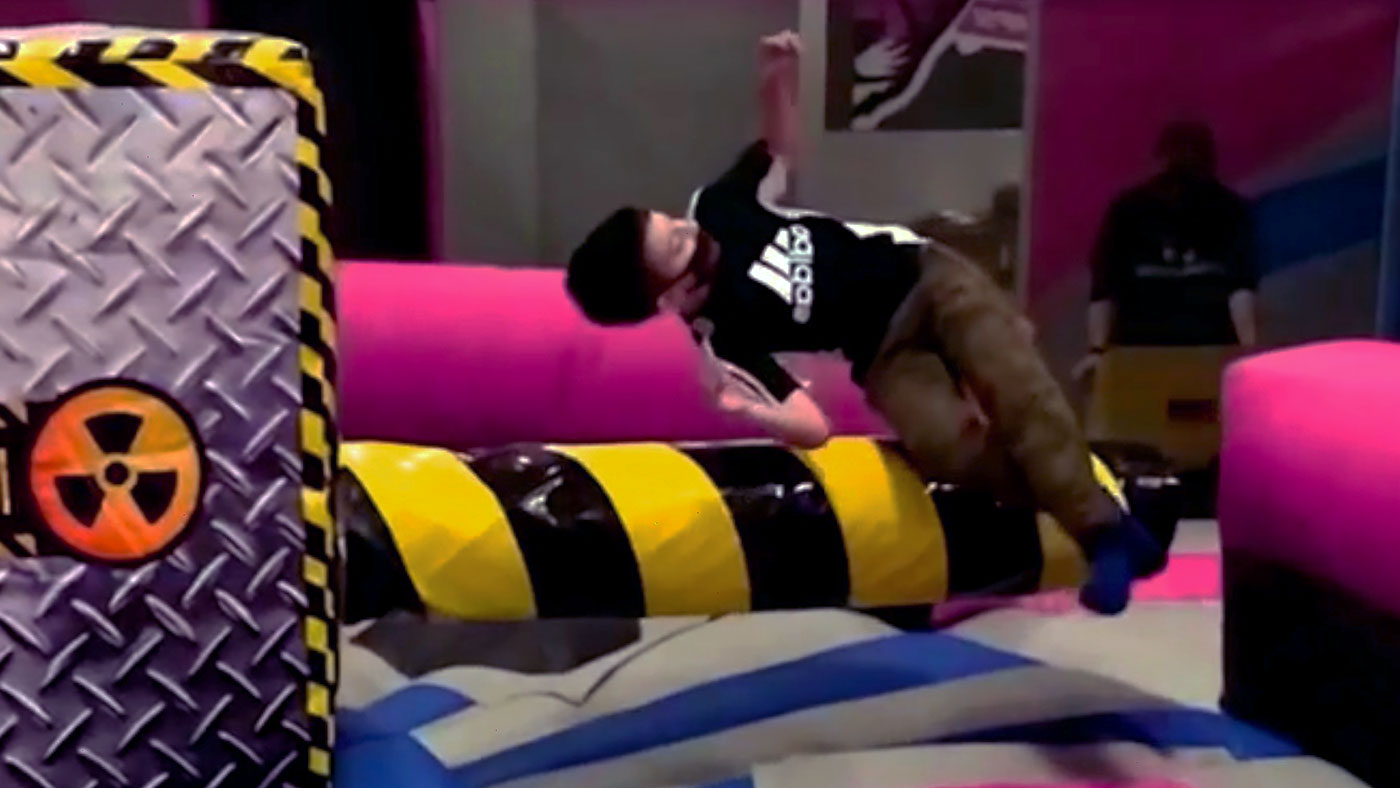 TORNADO TWIRL
Although this tornado won't send you to Oz, it will definitely keep you on your toes. Test your cat-like reflexes to avoid getting knocked out by this rotating wipe out arm. Dodging and jumping and ducking–oh my! There's no place like the Tornado Twirl!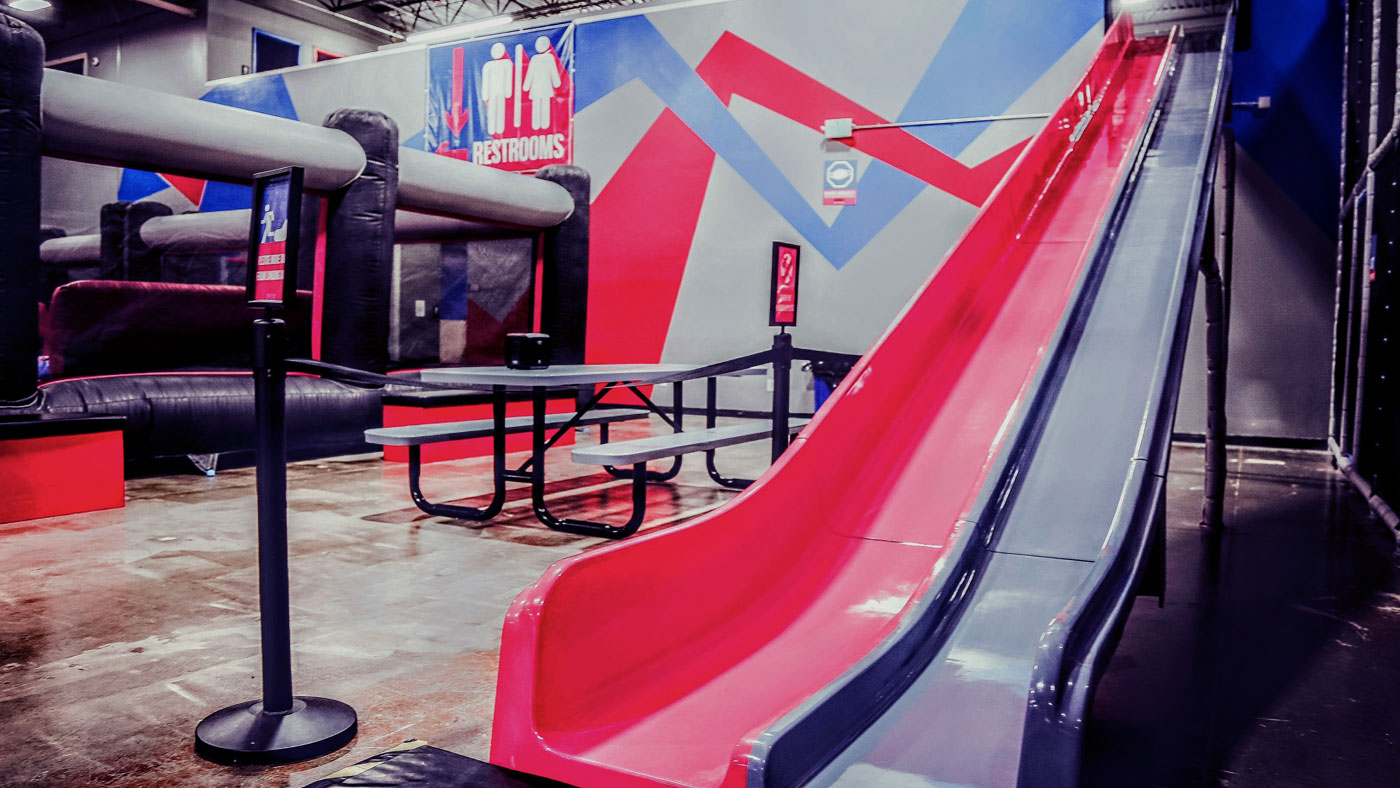 SIAMESE SLIDES
Psst, wanna hear a secret? This slide is the quickest, sneakiest way to get to all the other attractions. Grab a friend, skip the stairs, and zoom down this double slide that starts at the mezzanine and drops you right into the action.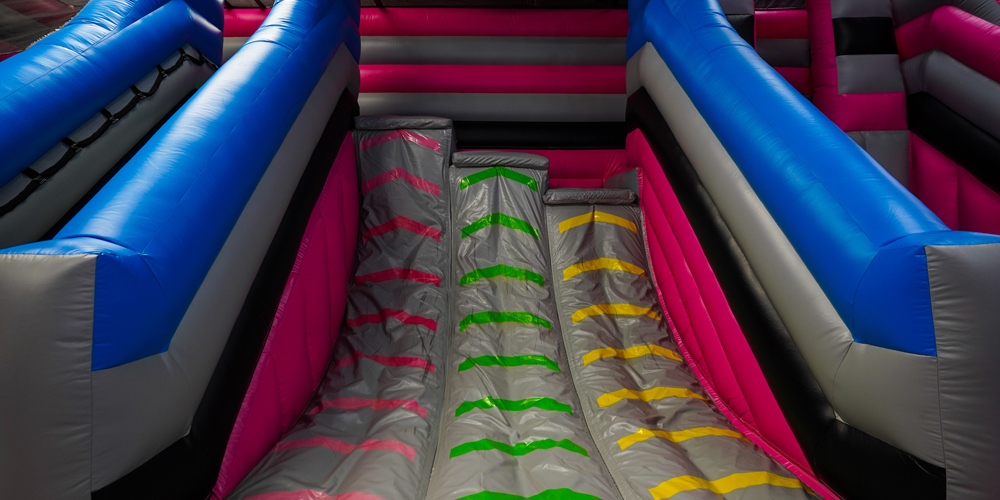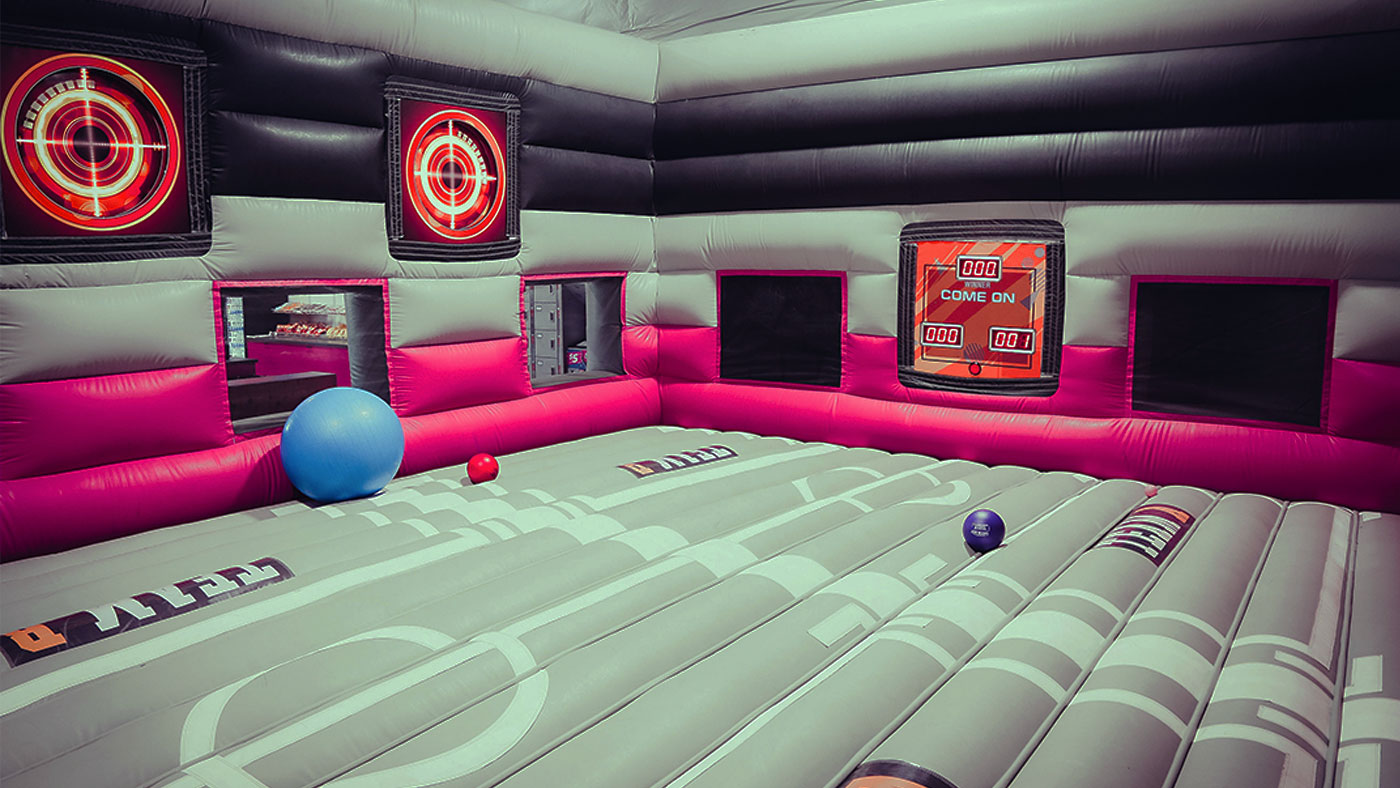 CATAPULT COURT
When you're ready to get your game on, play Basketball, Soccer and Dodgeball at St Pete's newest Arena, Catapult Court!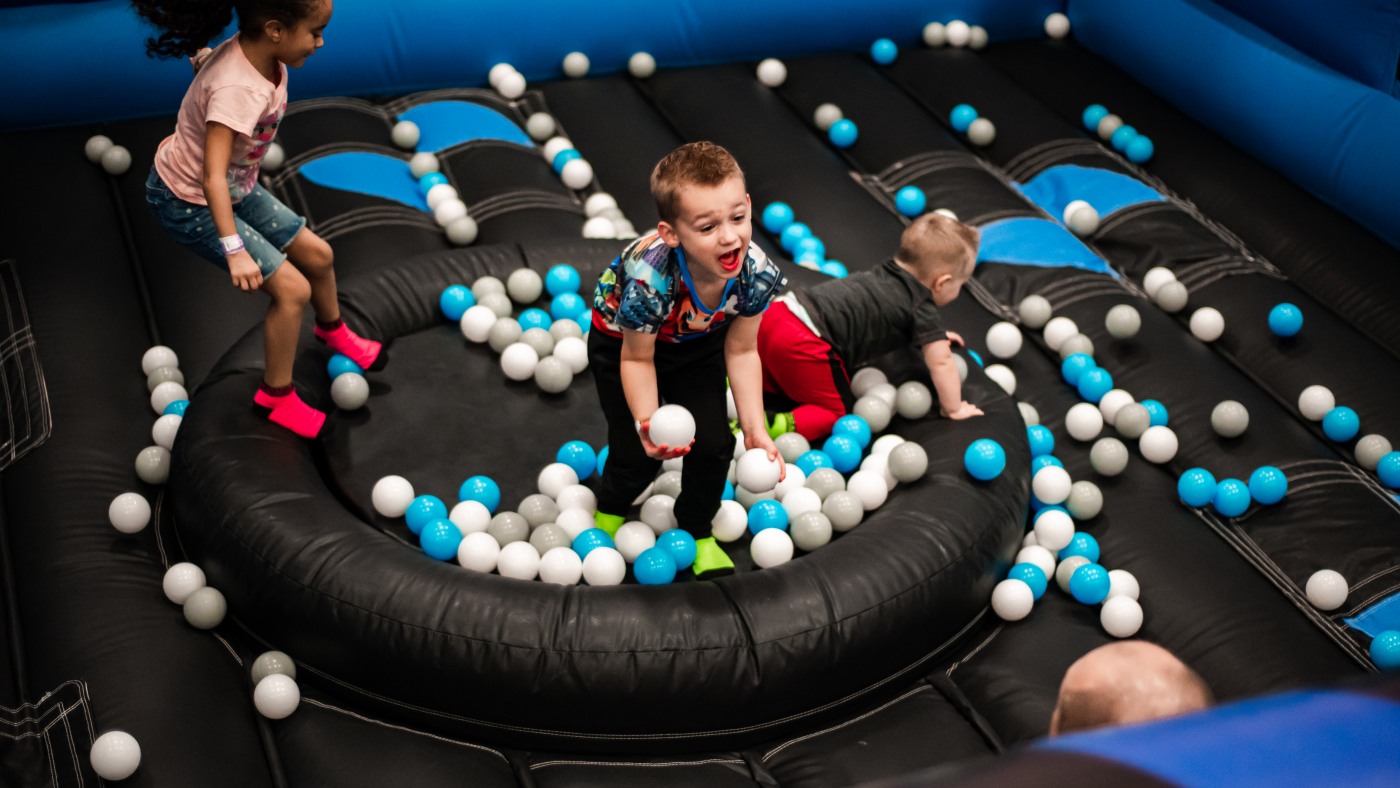 OTHERS
Tiny Tunnels
Air Slides
Testing Hoops
Kids Cat Walk Air Bag
Warp Wall
Wipeout!" Ball Run